The recent death of former NBA player Lorenzen Wright makes one wonder if the 1996 Los Angeles Clippers have been cursed. In the 14 years since 1996, there have been numerous problems in the players lives, including drug use, illnesses, serious injury, and death. This is especially strange when you consider the type of people who become professional basketball players. Individuals must be young, strong, athletic, and generally healthy to make it to the NBA. So let's take a closer look at the rosters of both the 95-96 and 96-97 Clippers teams.
The roster in 95-96: Brent Barry, Terry Dehere, Antonio Harvey, Lamond Murray, Bo Outlaw, Eric Piatkowski, Pooh Richardson, Stanley Roberts, Rodney Rogers, Malik Sealy, Keith Tower, Logan Vander Velden, Loy Vaught and Brian Williams (aka Bison Dele).
The roster in 96-97: Brent Barry, Terry Dehere, Kevin Duckworth, Rich Manning, Darrick Martin, Lamond Murray, Bo Outlaw, Eric Piatkowski, Pooh Richardson, Stanley Roberts, Rodney Rogers, Dwayne Schintzius, Malik Sealy, Loy Vaught, and Lorenzen Wright.
Stanley Roberts
Roberts missed all but 14 games in the 1993-94 season, then all of the next season, due to an Achilles tendon injury, first in one leg, then the other. After an unassuming 6-game spell with the Rockets, as a member of the 76ers in late 1999, Roberts was banned by the NBA for drug violations.
Rodney Rogers
On November 28, 2008, Rogers was involved in a dirt bike crash in rural Vance County north of Raleigh. Rogers hit a ditch while riding through a trail and flipped over his vehicle's handlebars.
Rogers is paralyzed from the shoulders down as a result of the accident, and doctors have given him only a 5% chance of ever walking again.
Malik Sealy

Sealy was killed in St. Louis Park, Minnesota on May 20, 2000. He was driving home from a birthday celebration for teammate and best friend Kevin Garnett in downtown Minneapolis when his SUV was struck by a pickup truck traveling the wrong way down the highway. The truck was driven by 43-year-old Souksangouane Phengsene who survived the accident with head and chest injuries. Neither driver was wearing a seatbelt. Phengsene's airbag deployed, but Sealy's SUV did not have one. Blood tests indicated that at the time of the accident, Phengsene had been driving drunk; his BAC was 0.19%. The legal limit in Minnesota at the time was 0.1%. He pled guilty to a charge of vehicular manslaughter, was given a four-year prison term, and was released from prison in 2003. Sealy was 30 years old.
Bison Dele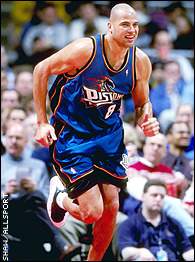 Dele is believed to have been murdered at sea by his older brother in 2002. In July 2002, Dele and his girlfriend, Serena Karlan, sailed on the South Pacific Ocean along with skipper Bertrand Saldo on Dele's catamaran, the
Hakuna Matata
. Dele's brother, Miles Dabord (born Kevin Williams), was the only person involved in the voyage who was seen or heard from after July 8, when the party was in Tahiti. Dele and Karlan had previously kept regular contact with their banks and family members. On July 20, Dabord was by himself when he brought the boat into Tahiti.
On September 5, police used a sting operation organized by Dele's family and friends to detain Dabord in Phoenix, AZ. Dabord had forged his brother's signature in order to buy US$152,000 worth of gold under his brother's name. He had used Dele's passport as identification.
Mexican police later found that Dabord had been staying at a hotel in Tijuana, Mexico. Two days before, the
Hakuna Matata
, which had been registered in Tahiti under another name, was found off the coast of Tahiti with its name plate removed and some possible bullet holes patched. About the same time, Dabord phoned his and Dele's mother, Patricia Phillips, telling her that he would never hurt his brother and that he could not survive in prison.
The FBI became involved in the investigation along with the French authorities and concluded that Dele, Karlan and Saldo were probably killed, and then thrown overboard, by Dabord. Given that the bodies were likely dumped in the middle of the Pacific Ocean, it would be highly unlikely that the three would ever be found. Dabord, the only major source of information regarding the case, intentionally overdosed on insulin and slipped into a coma. On September 27, 2002, he died in a California hospital. After Dabord's suicide, officials did not expect to find much more regarding the case. Dele was 33 years old.
Kevin Duckworth
Duckworth died of heart failure on Monday, August 25, 2008 in Gleneden Beach, Oregon. He collapsed in his hotel room, and emergency services were unable to revive him. His death was confirmed by the Lincoln County Sheriff's Office. Duckworth was in town as part of a Trail Blazers group hosting a free kids basketball clinic. An autopsy identified the cause of death as hypertrophic cardiomyopathy with congestive heart failure. Duckworth was 44 years old.
Dwayne Schintzius
In November 2009, Schintzius was diagnosed with leukemia. With a bone marrow donation from his brother Travis, he had bone marrow transplant surgery at the Moffit Cancer Center in Tampa on January 12, 2010. As of February, the surgery was considered a success.
Lorenzen Wright
Wright was last seen alive on July 18, 2010, at around 2 a.m., leaving his ex-wife's house and was reported missing by his family on July 22.
His dead body was found July 28 in a wooded area in Memphis by Hacks Cross Road, near Winchester. ABC Channel 24 in Memphis reports that a 911 call was received from Wright's cell phone at 1:00 a.m. on July 19; the caller was speaking with the dispatcher when several gun shots rang out.
The case is being investigated as a homicide.
So as you can see, something fishy was happening. Beware of any NBA player that played for the Clippers in 1996.